♥ Our Stories

Bought a new ball for Cookie Miki while out on fri. A veri colorful ball wif bell sound inside. Its frm a children department store & costs onli $2.50.
And they r loving it. Hee.
Bought the red clip for Miki aso.
Here's Cookie biting an egg. Ha. Its cooked. I didnt noe he is so interested in eggs. He kept biting in his mouth n doesnt wan to drop it. Isnt he cute?? HA.
give urself a chance to understand us
6:43 PM
Hee. See how notti Miki is. Bt she's cute. Ha. She only dares to bully Cookie. When she sees other dogs, she will b like a mouse n want hug hug. Just like a little ger. Ha. Luckily Cookie is willing to let her bully. One's a gentleman, another a sassy ger. Just nice. LOL.


give urself a chance to understand us
3:14 PM
The new hairclips...
Miki looks so swt wif the hairclips. Esp tis. The pink is so swt!!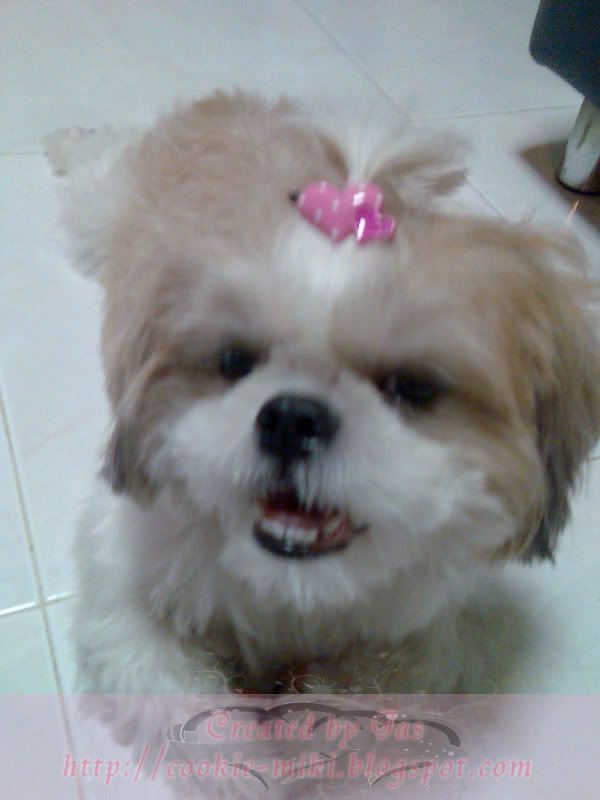 She looks pretty even wif ribbon.
*SO CUTE!!!*
Cos of the noise pollution, she's hiding under the table.
*Poor ting*

give urself a chance to understand us
4:09 PM
Don't lauf, its painful.
Note: Video quality is nt tat good due to video being edited.
give urself a chance to understand us
4:20 PM
Playing Wif US Doggie Paper Bag
give urself a chance to understand us
3:32 PM
Dear bought pizza frm US Doggie for cookie & miki on Saturday. Its quite a big serving for just 2 of them. Shd b jus nice if its for 3 dogs.
While waiting for the pizza....
Video of them having pizza.
Note: Video quality is nt tat good due to video being edited.
[Part 1] - mute
[Part 2 (2nd serving)] - mute
more videos coming up.....
Yummy Yummy!!
Bought these aso.
Of cos the hairclips r for Miki. She gt more accessories than mi. The precious moments tissue r mine. The swt packaging attracted mi so dear bought it for mi. Bought sth for the lady boss of the pet shop. A precious moments wedding waterglobe. Its veri nice. Bt forgot to tak foto b4 asking the salesgirl to wrap it up. Hope she will like it.
give urself a chance to understand us
11:40 PM
Surprises Brighten Up A Person's Dog's Day
Yippie!!


Surprises for Cookie Miki TML!!!


Hope They Will Like It =)

give urself a chance to understand us
3:50 PM
This doggie is so CUTE!!!! Bt dun understand hw cum the fur can b so nice. Gt a heart shape sumore. So nice!! Ani1 noe hw cum there can b a heart shape?? I wan try it on Miki also. Ha. Shd b veri cute.
give urself a chance to understand us
9:41 PM
What's so nice abt my Pillow???
Recently, Cookie has tis habit of slping on my pillow. Ha. I duno y he likes my pillow so much.
Every night aft his supper, he will come up my bed n slp on my pillow. Ha. The mattress so big he dun wan to slp. Purposely wan find the most uncomfortable way of slping. The pillow is so small onli bt he still wan to slp on it. Stupid Boi~~ Ha.
Bt the way he slp is
SOOO CUTEEE!!!
give urself a chance to understand us
4:49 PM
Pics taken last mth... on a Saturday...
Every Saturday, Cookie & Miki will have their bath in the morn n dear will come to my hse in the noon. Like i said, Cookie hates bathing. Bt its normal for dogs to hate bathing. Ha.
If i tell him "
Pom Pom
" - bathing, he will run away frm mi, hid under the bed, run here n there. Notti boi. Ha. Like playing catchin wif him lidat. So mus set trap then can catch him. Ha.
After bathing n eating, i will tell him, "Its Saturday leh". Bt sumtimes he will blur blur. Then i will add on, "Youzhi is coming". He will then keep lookin out of the window n wait for him to come. Ha. Smart rite?? Just like the pic below. Bt then for Miki, she's abit slow. She onli understand "Sumbody is coming" n nt the name of the person. Ha.
CuTie CuTie!!!!
"Have u seen him??"
Cute Miki.
I still perfer her wif the long furs. Short furs make her looks so small size.
Waiting patiently.........
give urself a chance to understand us
3:41 PM
Was tinkin wat 2 post for 2dae n jus nice i found sum cute video of Cookie & Miki taken recently. Shall post 1 for 2dae. If post too many, latr tml nth 2 post. Ha. EnJoY~~


give urself a chance to understand us
5:53 PM
Brought my 2 darlings for grooming today and the lady boss gave us a cake. Ha. I tot is bcos i gave Ace a slice of cake on Miki birthday then she gave us a cake in return. Bt is nt.
Look... its actually her wedding cake. The lady boss n the male boss of the pet shop. Its onli last wk then i know tat she's getting married bt didnt noe she will gif us her wedding cake. So nice of her. Maeb cos we r 1 of her closer customers. Hee.
From Sweet Secrets. She even mentioned tat its for human nt for dogs. Ha.
As usual, Miki was so happi when i brought her 2 the pet shop or shd sae, she brought me to the pet shop cos she's the 1 leading mi there. Ha. Bt Cookie refused to go in cos sumhw he knew tat we r bringing him to go bathe. He hates bathing. Bt tats normal for dogs. Miki is the 1 being adnormal. Haha.
After grooming. Miki had full grooming bt Cookie onli had basic grooming cos Miki kept having rashes recently so mus cut short her furs. Maeb cos of the hot weather.
Bt she still looks so cute. Hee.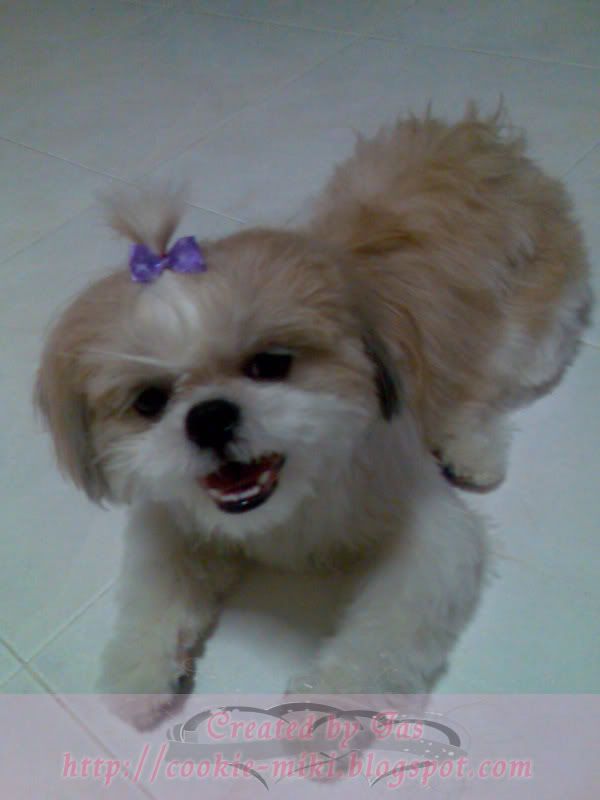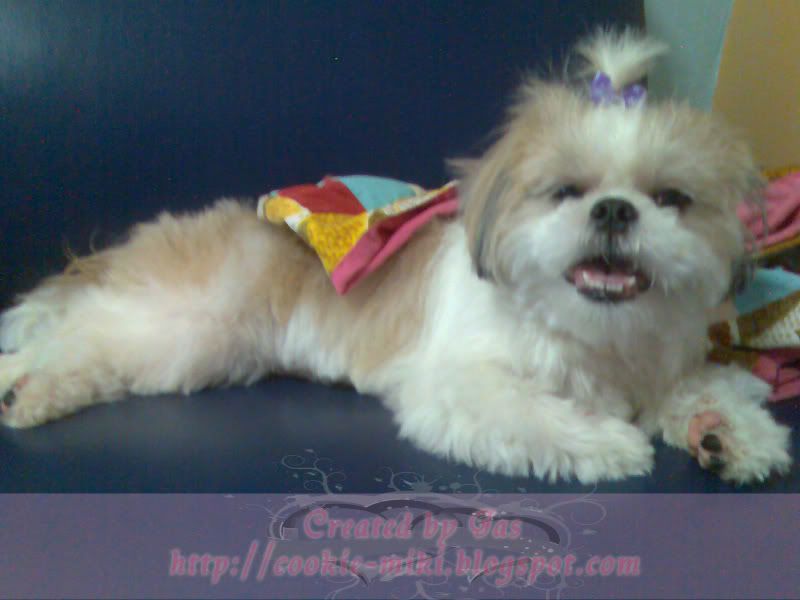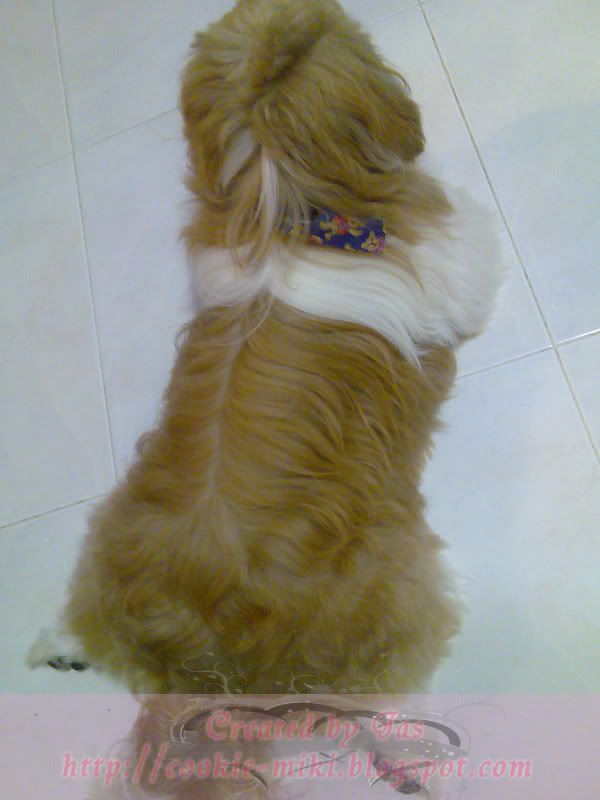 give urself a chance to understand us
10:51 PM
Here's a short clip of wat they always do at home. Tink tis video was taken jus aft they had their dinner. Ha.


give urself a chance to understand us
6:55 PM
Its Miki Birthday on 1st Sept!!!!
YOZ, ITS MIKI BIRTHDAY YTD!!!
Ha. So she's 3 yrs old nw. But she still behave like a puppy. LOL. Tats aso y she's so lovable. 人见人爱 Ha.
All along i wanted 2 get a cake for their birthdays bt then mus travel till east coast, cos tats the 1st n only AVA licensed bakery for dogs. N tats so far frm my hse bt nw there's a branch at Compass Point. Its so much more convenient.
It was dear hu found the source for mi. He ordered the cake le n wanted 2 gif mi a surprise on sat bt i cant wait. Ha. So forced him 2 sae out the surprise. Was so excited upon hearing tat. I even insisted to go Compass Point tog wif him 2 get the cake when he could actually get it for mi b4 cuming 2 my hse. Its nearer for him bt its my darling's bd cake of cos i shd make an effort 2 get it myself. N i was so eager to c the cake also. Hee.
The moment i saw the cake, i gt a shocked. I didnt noe it will look so
NICE!!
It looks jus like our normal fruit cake.
Delicious~~

At ard 7pm, Miki celebrated her birthday tog wif Cookie. Though its Miki's birthday ytd, i treated it as a celebration for both of them so its aso Cookie's birthday celebration. Lit the candle n wanted 2 sing birthday song 2 them bt dear n mum said i mad. Cos they said even if i sing for them, they aso dun understand. Bt then, i was tinking its still betta 2 celebrate bd wif bd song mah. Maeb they understand leh?? Ha.
Took fotos, blew the candle (of cos is i blow for them lar, ha, if nt hw they blow) & cut the cake.
See, Miki looked so happi in tis pic.
So cute!!

The cake as their dinner. 1 slice each.
The birthday ger.
1st time eating cake. He seems to be tinkin,
"How shd i eat??"
Ha.
So cute!!
After having the cake, we cut a slice of cake n brought Cookie Miki dwn to the pet shop b4 it closed. Tinkin of gifin a slice to Ace (the pet shop lady boss's dog) n shun bian let Miki c the lady boss since its her birthday. Cos she is alwas so happi whenever she sees the lady boss. Her tail will wag non stop. If u bring her dwnstairs, she will auto bring u to the pet shop n if u dun let her go there, she will refuse to walk n will cry if u insist to hug her n walk away.
Though we bought the smallest size of cake bt then its still too much for Cookie n Miki to finish plus its nt veri healthy 2 let them eat too much so tot of gifing sum away. Told them its Miki's birthday tat day so shared a portion of the cake wif Ace n the lady boss came forward 2 sayang Miki n wished her Happi Birthday. Miki was so happi, tats for sure.
Gave another slice of cake to bro's gf's dog cos 2dae is actually her dog's birthday. So qiao. 1 day aft Miki. Nxt time can plan 2 celebrate tog. Ha. Lidat then wun waste the cake. Another 1/4 of the cake (2 slices) was given to lassi bt tat stupid lassi, waste Cookie Miki cake. He duno hw 2 eat the cake!! So nice, he dun wan 2 eat. Lucky my 2 darlings nt like lassi, if nt i mus finish the cake myself le. Ha. Aft giving away sum slices, finally there's onli 1/4 left, jus nice 2 slices for Cookie Miki as dinner 2dae.
Cut the cake into smaller pieces so tat its easier for them 2 eat. Bt its abit messy. Ha.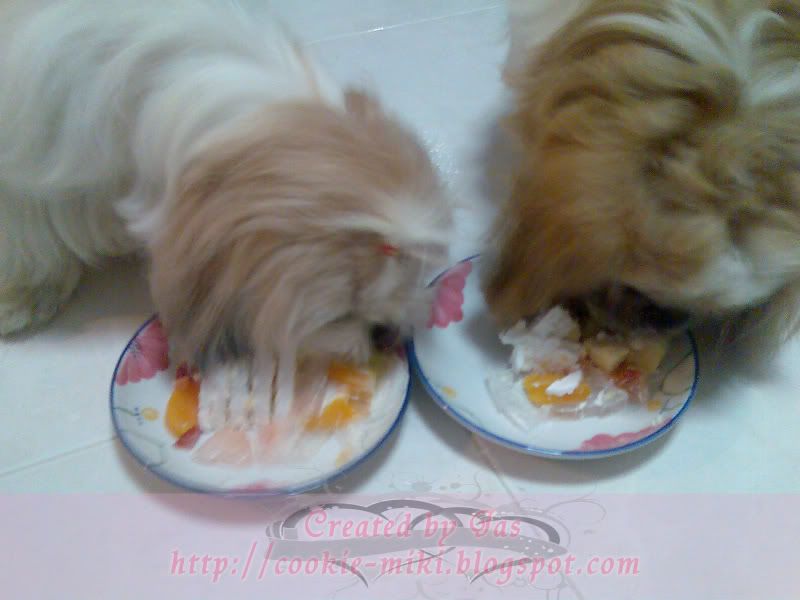 Greedy ger. She went 2 lick cookie's plate after finishing her share, tinkin tat it might hav leftover. Ha.
Ytd, cookie like duno hw 2 eat the jelly part bt 2dae he finished his cake. See, they finished it all. So clean. It mus b veri nice.
I tried eating 1 small portion of it, it actually taste like normal cake. Its edible n its swt sumore. I tot for dogs, the cake wun b swt bt was surprised tat it tasted swt when i ate it. Lucky nv gif them eat too much. Latr tml they dun eat their normal meal then cham.
No wonder Miki liked it so much. She loves those swt ting like marshmellow, waffers & honey biscuits bt Cookie dun like. Reali like a ger. Like for us human, normally the gers will like swt stuffs bt nt the guys. Cookie n Miki aso same as us. N usually, the guys will eat till the mouth veri dirty bt the gers will b veri gentle n loves to be clean. Cookie Miki aso lidat. Cookie will eat till veri messy with cream on his nose, his mouth, his ears etc bt Miki wun. She will eat skillfully. Even if she dirty her mouth, sumhw she noes n will keep licking it n make it clean. Ha.
Dirty Cookie. Look at both his ears, his mouth. Ha. Bt he like duno tat he looks dirty, still look so confident. Ha. So cute still.
Luckily they loved the cake n finished it. Wonder if they noe, tats a birthday cake for them. Hope they r happi n enjoyed the cake.
As long as i c them happi n healthy everyday, i will b happi enuf.
give urself a chance to understand us
11:24 PM