♥ Our Stories

Tis pic n the 2nd pic was taken last nite. Look at how they slp. Ha.

So loving!!

The blanket shd b my bro covered for cookie then tis miki went 2 slp on top. Ha. Cos the weather was quite cold ytd.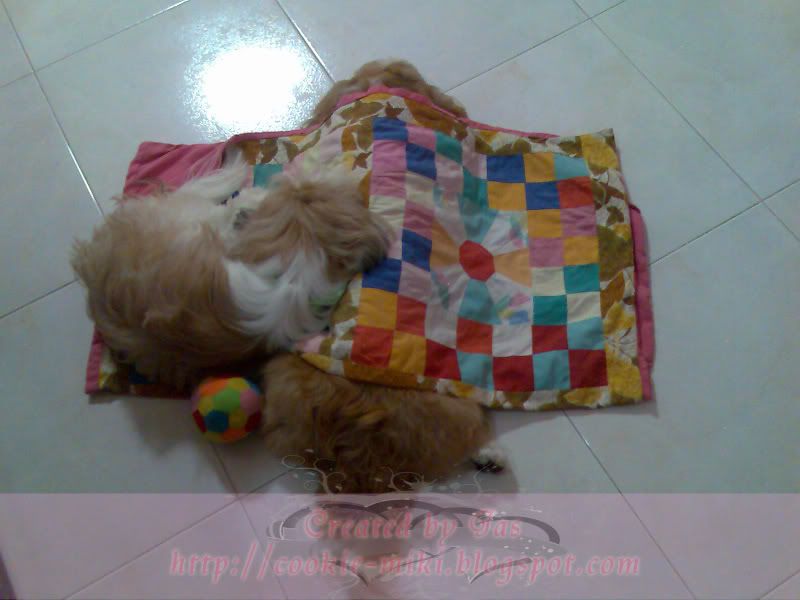 Ooo...... So SWEET!!!!
They look so cute even when they are slping. Hee. And they had been slping in tis position from 8pm to 9+pm. Means its more than
an hr!!!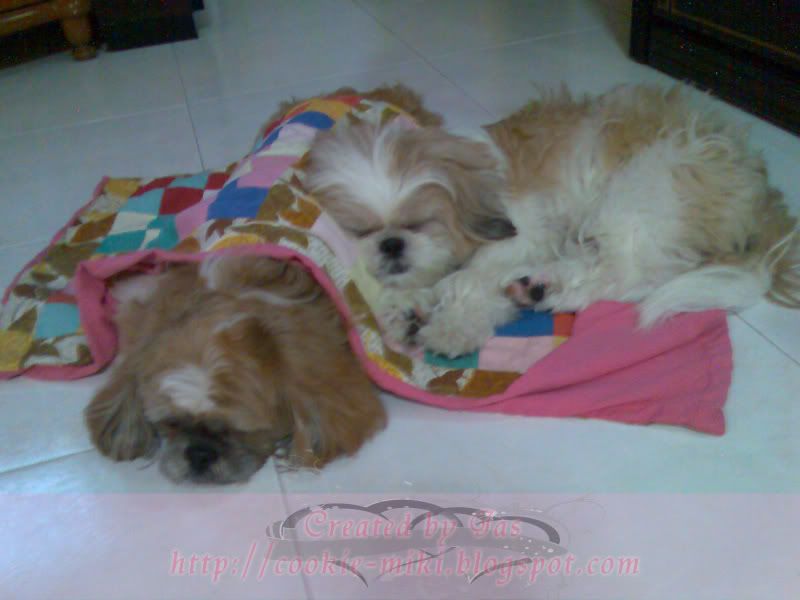 This was taken sumwhr last wk i tink. Aso during nite time. She always hav lots of stupid bt funny slping styles.
Maeb its nicer 2 slp lidat???? Ha.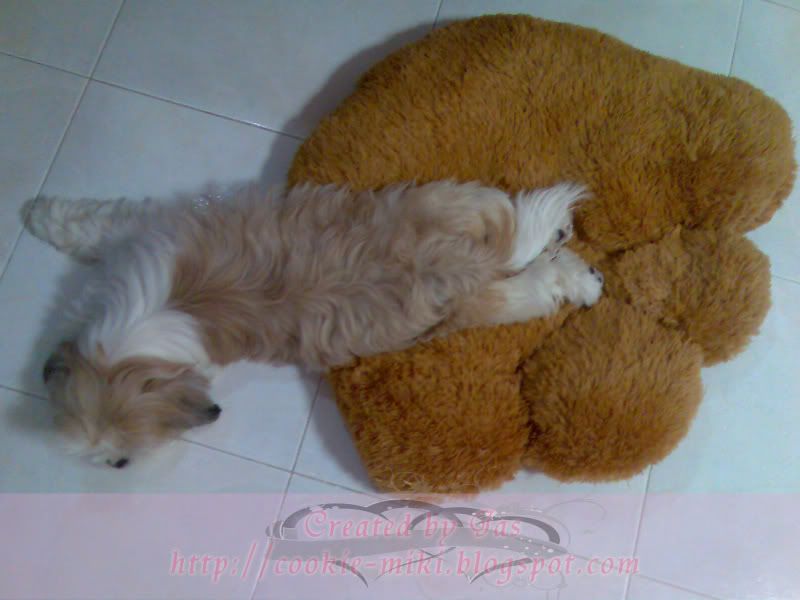 give urself a chance to understand us
12:42 PM
Mum brought them for grooming on fri cos i wasnt at hm. Bt Miki didnt cut hair. Only basic grooming. Is my cookie tat had full grooming. So now the both of them looked abt the same size.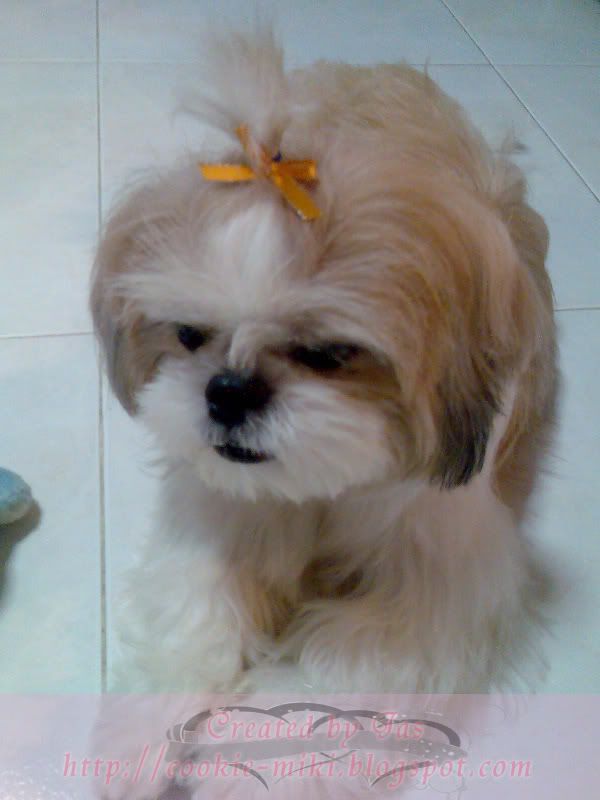 When i reached hm at nite, my boy was already so tired.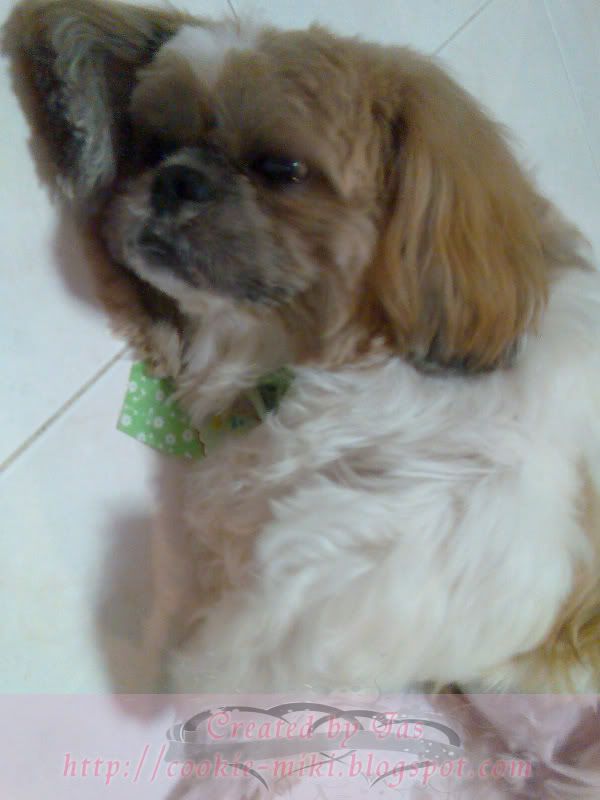 Falling aslp....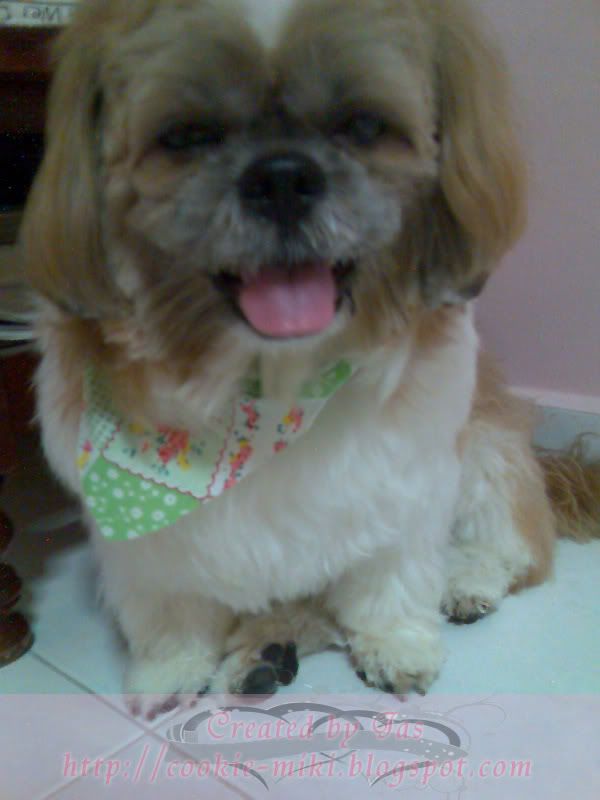 A colorful pic. This Miki went 2 lie dwn on my calendar when i put it on the floor. So auto. Tink she reali likes those coloful stuffs or those wif swt colors like pink. Bt i read it sumwhr tat dogs r color blind. Is tat true?? If tats true, y my miki always go for colorful stuffs??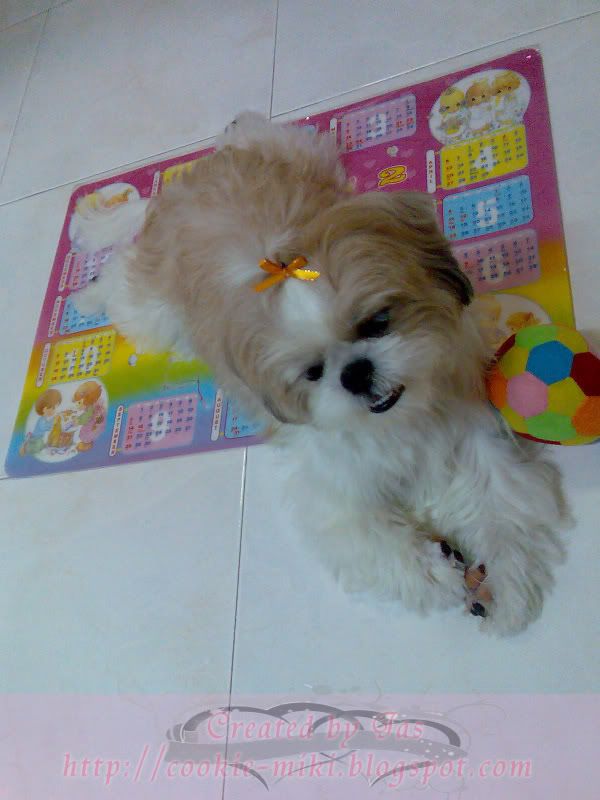 give urself a chance to understand us
11:42 AM
The cute japanese spitz i saw at the pet safari. So cute lar.
Bt dun c her so cute, she gt her attitude de. See below. Dun play play. Ha.
Very itchy mouth. No wonder she gt no toys 2 play wif. I noticed all the cages there's a toy inside, only her's dun hav. Must b she used 2 swallow the toy, tats y she's nt given 1 now. Ha. Whoever buys her back must b careful. I've gt a feeling she will bite & spoil everyting she sees in the hse. Tink she will even bite the owner's hand. Her teeth looked so sharp. If she dun open her mouth n reveal her teeth still alrite. Bt when i c her revealing her teeth n wanting 2 bite everyting she sees, it looks so scary.
[MUTE]
give urself a chance to understand us
7:27 PM
This is how my living rm looks like now. Guess who did tis??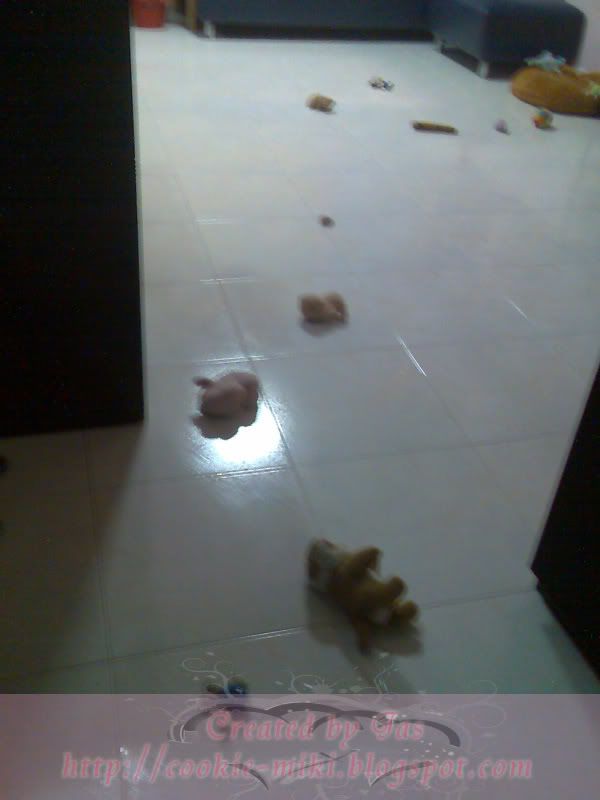 ITS
.
.
.
.
.
.
.

HER!!!!
MIKI!!!!!
Ha. Did u manage to guess it rite??? Shd b quite ez. Cos my cookie wun do tis. Ha. See how notti she is. She went to bite all her toys out frm her toy basket leaving behind onli a ball n a toy lobster. So notti, bt i like. Mum aso duno how to b angry wif her after seeing this mess. HAHA. Cos she's simply toooo
CUTEE!!!!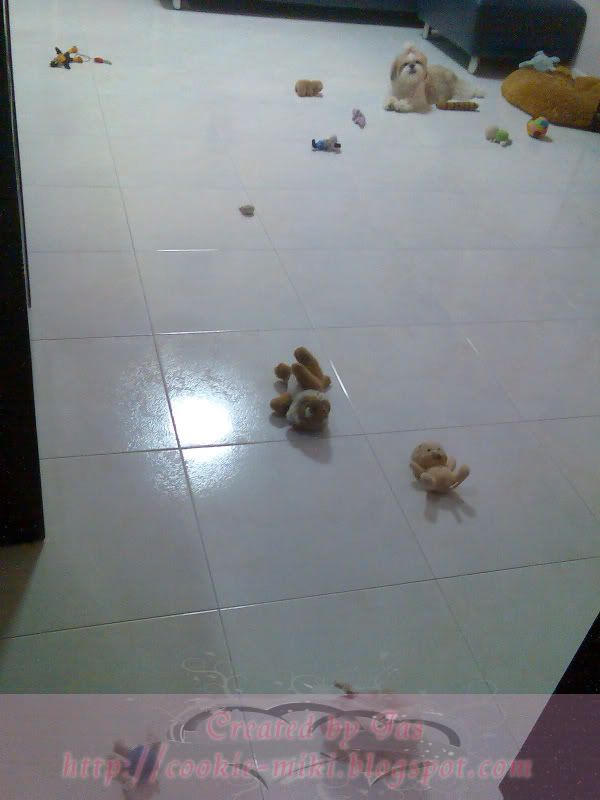 give urself a chance to understand us
10:30 PM


Anybody understands what is she trying to do??? Ha. Pls let mi noe.
give urself a chance to understand us
2:36 PM
My dear boy after bath on Sat.
HOOOOO....
Look at his sad face.... So poor ting. He hates bathing to the core!!! Bt nw he's sad cos nobody hugged him go into the hse. Ha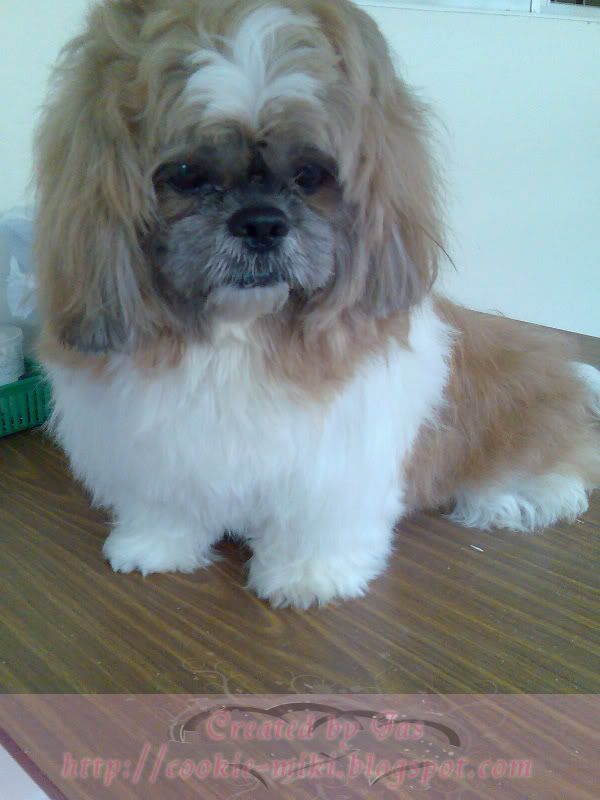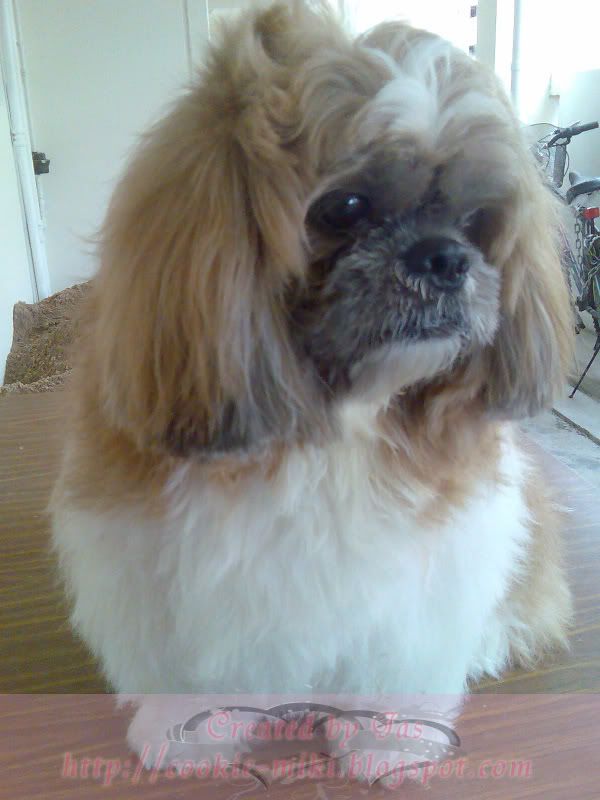 When Cookie meets Miki after the bath...... There they goes..... Ha.
Tats wat they saw frm the table.
Biscuits!!
Cos they r used to having food after bathing.
I simply love his long n thick coat.
Its so beautiful!!!
Esp after bath cos it will bcum fluffy n he will look rounder. Bt he's gona hav his full grooming on fri & there goes my fat cookie........ He's gona look alot smaller size than nw.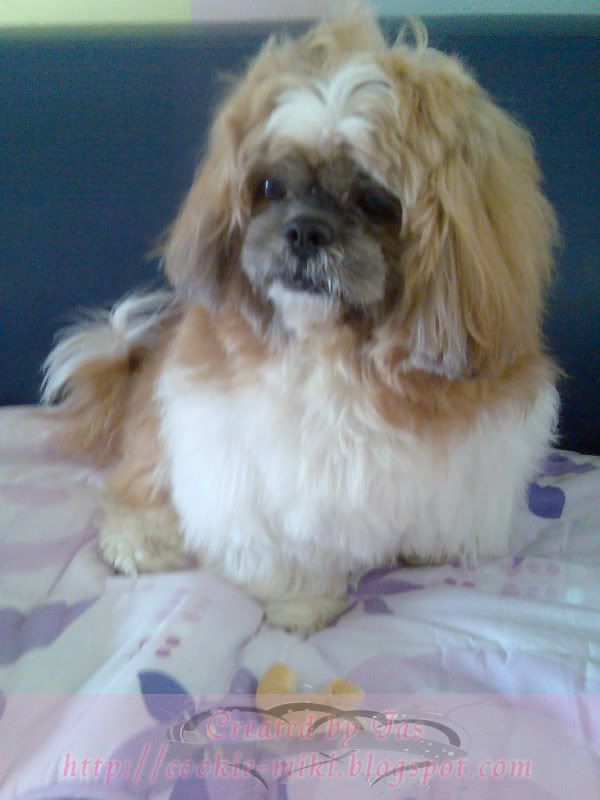 I love tis pic!!! He looks so CUTE & INNOCENT!!!!
Tats hw he always get himself out of trouble. Ha. How will i bear to scold such a cute boy???? I always ended up "sayang" him. LOL.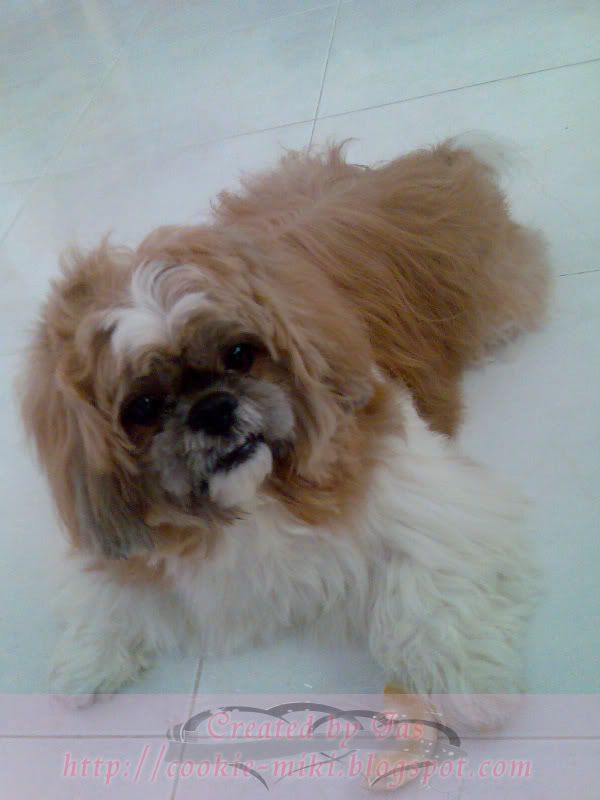 give urself a chance to understand us
8:44 PM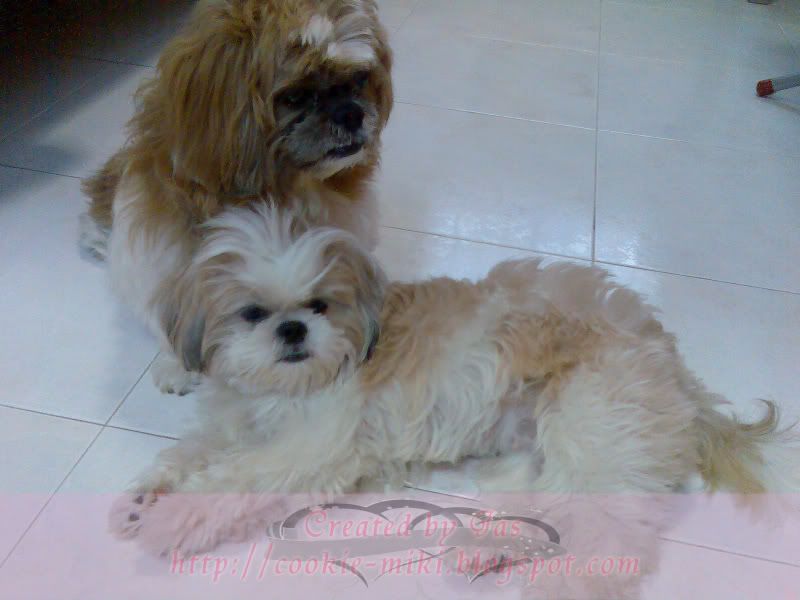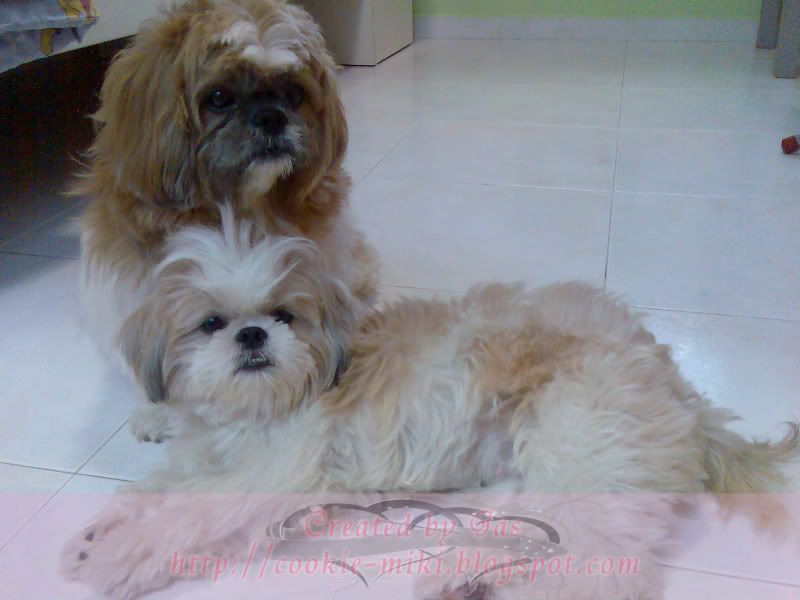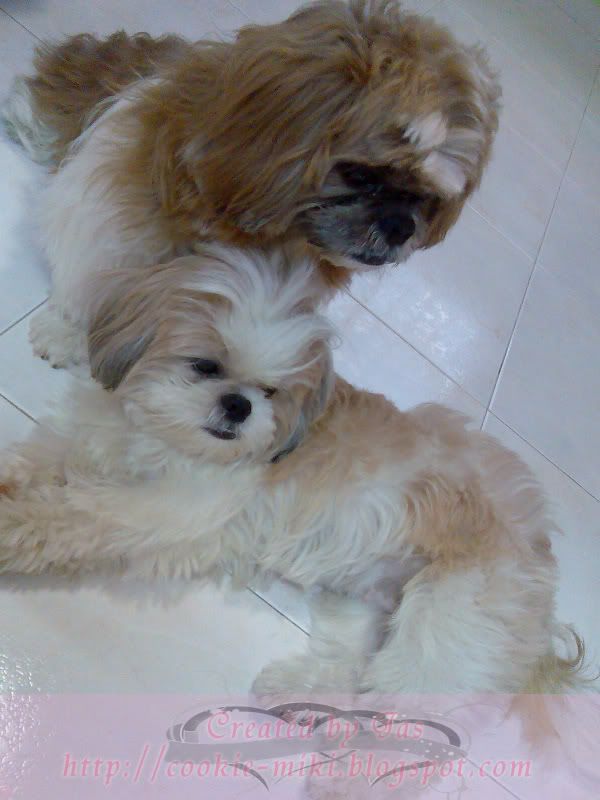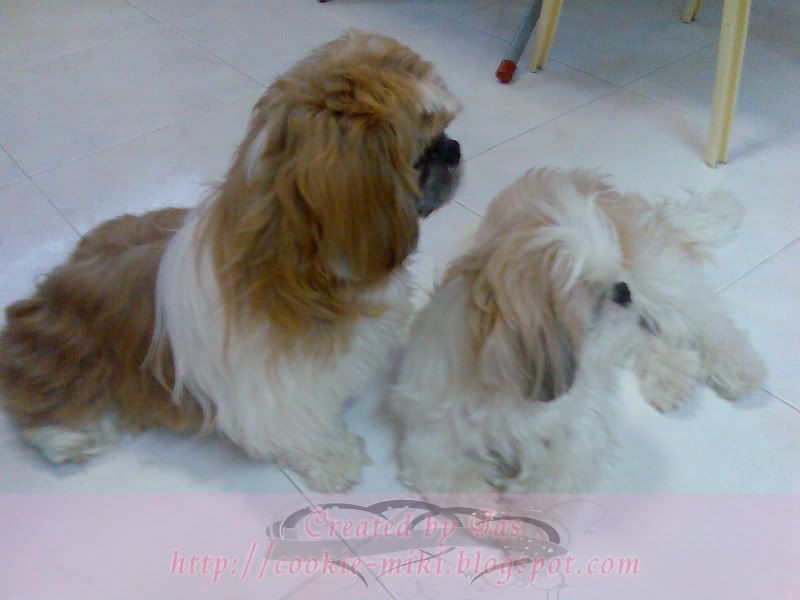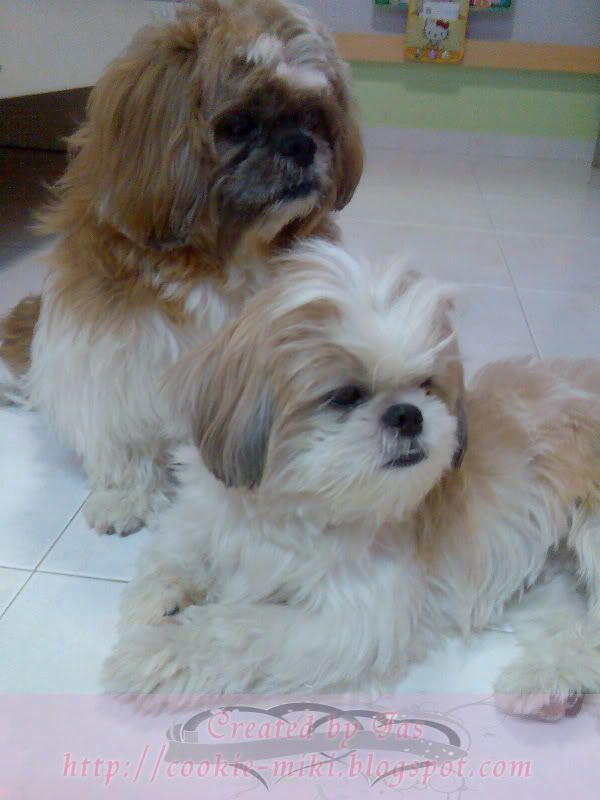 I'm
nt
sure
wat
r they looking at
aso
. Ha. Is mainly just sum
frens
of my bros' walking in n out.
Bt
they still look so
CUTE & SWEET!!!
Hee
. If u
reali
love dogs, no matter
wat
notti
actions they did or
wat
kind of pose they have, u will still find them very adorable. It can be just a very very minor ting they did tat caused u to find them so
kawaii
. I
duno
if it applies to other dog owners
bt
at least tats
wat
i feel.
Seriously i find tat cookie n
miki
reali
match each other. Don't u feel tat they look alike (ignore their color)??? And gt the couple face?? Even the pet shop boss
aso
said they gt the "夫妻脸".
LOL
.
Just like mi n dear.
WAHAHA
. Tat day we took a cab n
tis
driver was asking, "Are the 2 of u siblings??" I replied yes n the driver believed
sia
. Ha.
give urself a chance to understand us
2:19 PM
Cookie is so excited whenever we buy him snacks.
Look at this. Cookie is so focused in his snack bt tis Miki is so irritating, keep disturbing him. Ha.
Guess wat happened aft tat??
Eventually he managed 2 open the pkt of snack himself n
AUTO REWARD HIMSELF
wif 1 of it. LOL.
give urself a chance to understand us
9:25 PM
Sweet Dreams, Have A Happy Period
On a rainy day... See how smart she is... She jumped up my bed n slpt for near 2hrs. The way she sleeps is so CUTE!!! Jus like a baby, slpin so swtly. Look at her slp i aso feel like slping....
*Yawn*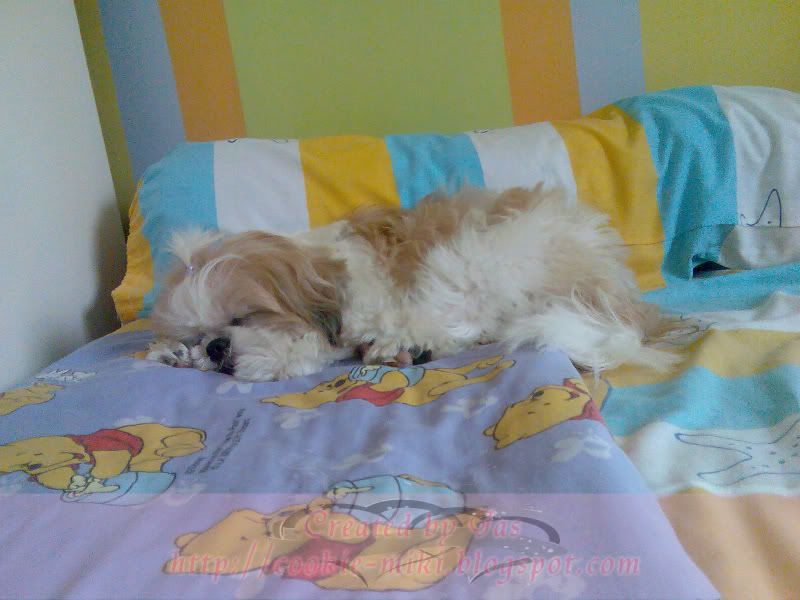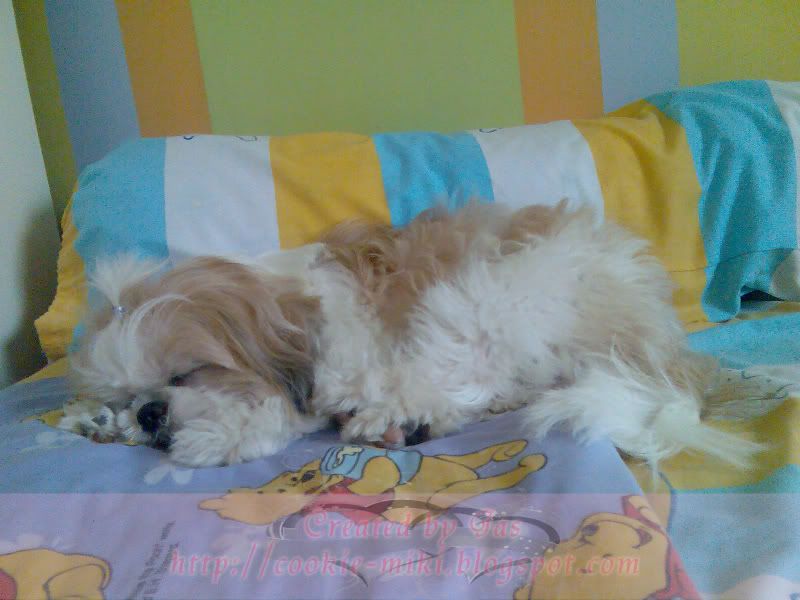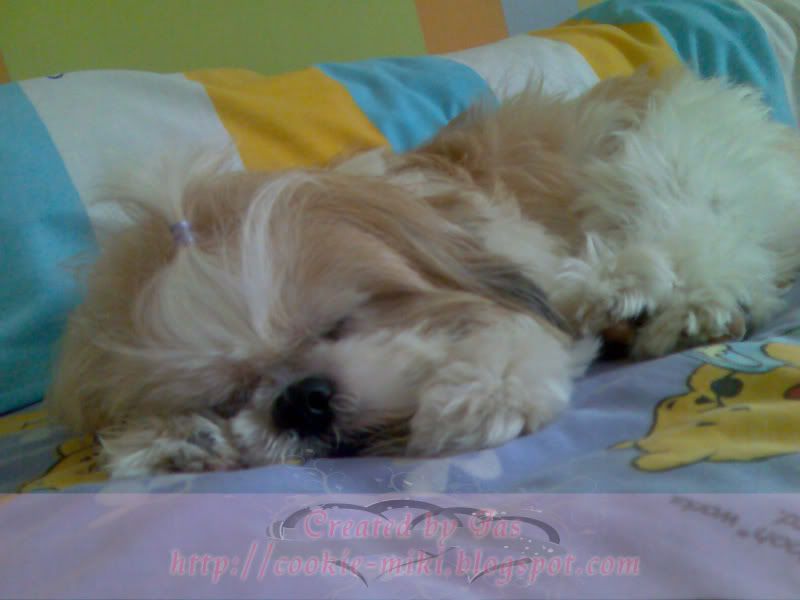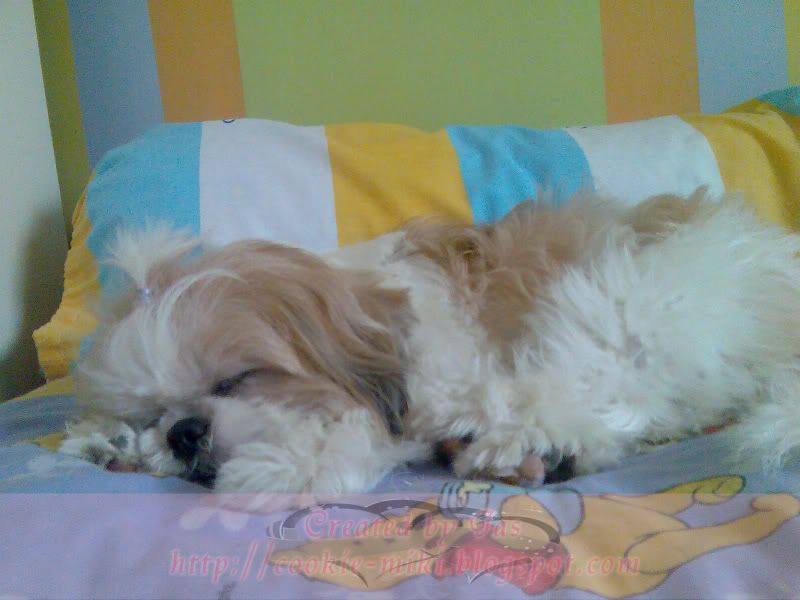 give urself a chance to understand us
4:05 PM
Somebody gave tis cushion to Cookie Miki & they seems to be loving the "paw" cushion. Ha.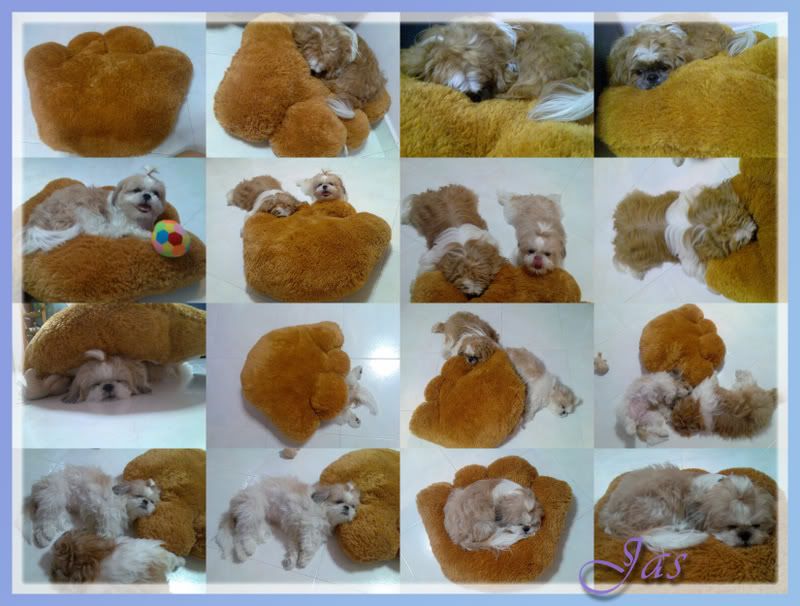 And here's a video of Miki playing wif the "paw" cushion. The mad ger. Duno wat she wants aso. Even cookie aso ignored her. Ha.
give urself a chance to understand us
9:00 PM
Initially, i wanted to post some pics n video of cookie miki 2dae n gt a gd news 2 share. BT, i heard of a veri heartbreaking news when i woke up n there goes my mood.
Maeb tml or later then post cookie miki stuff. And here's the gd news. Bt maeb its onli gd news 2 mi.
There's tis stray dog tat used to b appearing near my hse last mth. Felt so poor ting for the dog cos it looks abit sick n he's so skinny. When comes to dogs, i cant get myself to ignore them n let them die. So tat time when my mum told us abt the dog, we brought some food dwn for the dog 2 eat. Still gave him cookie miki's snack bt it seemed like he didnt like cos he nv touched the food. So we gave him some cooked chicken meat n finally, he ate. Was so happy when i c him eating. He mus b hungry for many days. So poor ting. All r dogs bt Cookie Miki so gd life, bt those stray dogs outside so poor ting. On the day itself, was tinkin of bringing him food at nite bt he wasnt there. Wonder whr he goes. Wonder if he gets to eat. Ytd, mum said tat the stray dog had been adopted by tis indian man. So nice of him. If only there's more of such nice ple. Hopefully the dog is in a better condition now.
End of the good news. Here's the bad news. Tink aft u noe of the bad news, the good news will seem to be nth...... Cos tats wat i feel now. The bad news is just too sad.
Last nite when mum brought cookie dwn for a stroll at 9 plus, she told us she met tis auntie wif her daughter n they were asking mum if she saw their dog, also a brown n white shih tzu like cookie. They mentioned tat it was 7 plus tat they realised the dog had went missing so they began searching ard the neighbourhood since 7 plus.
Everytime when i heard of a dog tat went missing, i will feel so moody all of a sudden. Will kind of sympathise the dog's owners. Maeb cos i'm a dog owner myself. Which dog owner will bear to part wif his/her dog??
NONE!!
If u dun mind parting wif ur dog n still feel happy tat ur dog went missing, i can only sae, u r heartless. Betta dun keep a dog. I noe of sum ple who will purposely open the gate n let the dogs go out n pretend tat their dog go missing.
BUNCH OF ASSHOLES!!
On the other hand, i will also wonder hw is the dog nw?? Is he in a safe place nw? Or in some heartless ple's hand? Or is he still trying to find his way home??? He must b feeling so scared n lost n must b longing for his owners at tat time.
This morn when i woke up, mum told mi..... the dog had been found bt..... killed in a car accident....... I was like.....
OMG!!!!
I reali felt like crying when i heard tat. Tat auntie was crying so bitterly when she told my mum. Which careless driver is tat????? How can he b so ruthless to our best fren???? Hit n run.
HALO!!!!! Its a living thing lor.......
I reali reali feels tat there's no justice in tis world. Its nt fair at all. Tat heartless driver can hit n run n happily escape the law while the dog owners r crying their heart out at home. Its like ur child who went missing n when u found him, he's lying on the road, dead. Its the same ting.
Do u guys watch the channel 8, 9pm show - "
Metamorphosis
"?? Rmb tis Dragontooth organisation??? Actually i'm nt against tat org. In fact, i support them.
If only they reali exists in Singapore.
Law is far too lenient for some ple. They shd be experiencing the same encounter as the victims. For tat heartless driver, he shd get his punishment by getting knocked dwn by a car. Tat shd b fair enuf. Though it still cant bring the dog bac 2 life, cant mend the hole in the heart of the dog owners, at least its fair.
Pls dun let tat happen 2 mi. I will surely go mad n
I SWEAR i will kill whoever killed my dogs.
I will make sure tat person gets wat he deserved.....
Rest in peace, my doggie fren...... i believe tat asshole will get his karma...
give urself a chance to understand us
2:31 PM
No longer illegal immigrants
Finally my cookie miki have gotten their badges. Took them so long 2 process the applications, esp cookie's. Duno wat took them so long. Aniwae, nvm, at least i have gotten it now. Shall buy a collar belt for them 2 put their badges. Bt it seems abit heavy leh. Maeb shdnt let them wear 24 hrs a day, when goin out then wear or i wear for them. LOL. Just kidding.
give urself a chance to understand us
3:44 PM
Dog saves owner, dies saving cat
This is devastating.
http://www.smh.com.au/articles/2006/10/18/1160850962780.html
If is mi, i will feel so guilty n heartbroken. So sad lor...... Poor dog, poor cat, poor owner....
give urself a chance to understand us
7:14 PM
give urself a chance to understand us
6:48 PM
Here's the news i'm tokin abt ytd.
http://sg.news.yahoo.com/cna/20071002/tap-303498-231650b.html
Aniwae, bought marshmellow for Miki 2dae. $6.50 for a small pkt. Quite ex bt alrite for mi. They happy & i will be happy. Used to buy the blueberry version bt Cookie doesnt like. Was tinkin maeb he will like apple flavour bt it still doesnt interest him. He onli loves MEAT!! Ha. Bt nvm, there's Miki. Ha. She LOVES such stuffs!! Jelly, marshmellow, honey biscuits, strawberry waffers etc. After u gave her 1, she will wan 2nd 1. Ha. She's jus like a little ger. So adorable. Hw can dun pamper her?? So once awhile will treat her to her fav swt stuffs.
The apple flavour marshmellow. It smells so nice when i open it. Like the F&N Zapple. I almost wanted to have a bite when i smell it. LOL.
*Yummy Yummy!!!*
give urself a chance to understand us
11:59 PM
Newly bought puppy diagnose wif heart prob
Saw the news at 6.30pm jus now. This buyer bought a Golden Retriever puppy frm E******* Pet Farm. If i nv c wrongly. Its Ericsson Pet Farm. Shockingly, when the buyer brought the puppy to the vet, the puppy is said to be diagnosed wif heart prob n can onli live for 1 yr. Bt when the buyer bought the puppy, the person-in-charge didnt mention aniting abt the illness n aso, it wasnt even written dwn on the paper. The buyer was of cos furious n he demanded for refund bt was rejected i guess.

Such breeders. So irresponsible. Anihw breed the dogs n sell. Nv even care for the dogs. Its a life lor.

Watch the news 2nite if u want to noe more. Hopefully the news will appear at 10pm later.

If i'm the buyer, i supposed i will b more sad than angry. Imagine 1 y later, u gt 2 part wif the dog. So sad lar. N the dog is still so young. Veri sad de lor. Y is tis world so unfair??? The puppy is still so young. Wat makes him deserve such punishment????

Last sat i was watching Guess Guess Guess n tis person was tokin abt a dog tat left her. The story is so sad n I cant help crying. I cant take such parting. I dun dare 2 tink wat will happen if my dogs left mi behind. I reali duno hw life will b like w/o them. Bt i noe tat such day cant b prevented. Hw i wish i can prevent it frm coming......

Maeb u will sae, i shdnt have adopted them in the 1st place. If i nv adopted them, i wouldnt need 2 take such parting in the future bt..... i will alwas tink in tis way... if i dun adopt them, hw will their life b like nw???? Will it b better?? Or worse??? I cant guarantee others will treat them gd, so hw i bear 2 gif them away??? I trust in myself tat i can treat them gd, tats aso y i choose 2 adopt them than gifing away. Plus they hav feelings too. They shd nt b treated as things to be given here n there. Ever tink of hw will they feel??? Jus put urself in their shoes n u will understand.
give urself a chance to understand us
9:00 PM
I LOVE COOKIE & MIKI!!! =)
give urself a chance to understand us
11:55 PM