My baby ger. Ha. Like baby rite???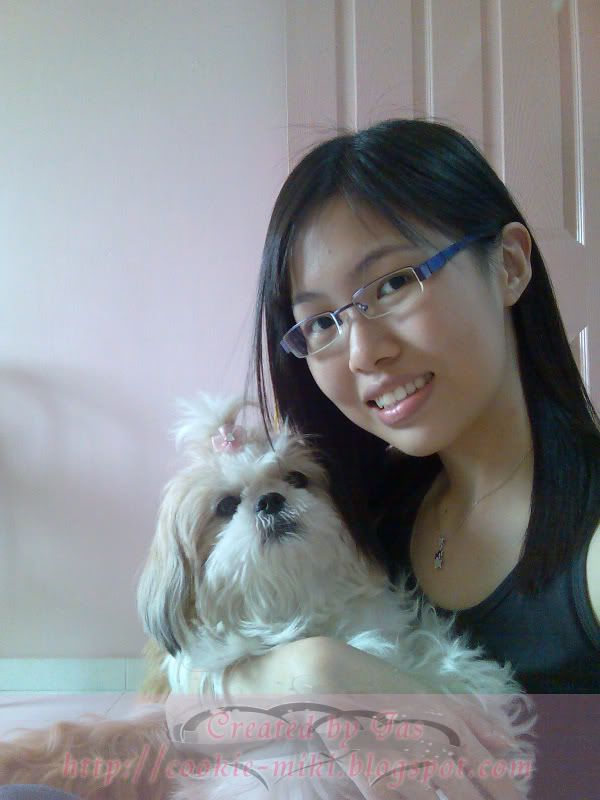 Dear bought 2 new balls for them. Nw, they no longer nd 2 snatch from each other. Hee.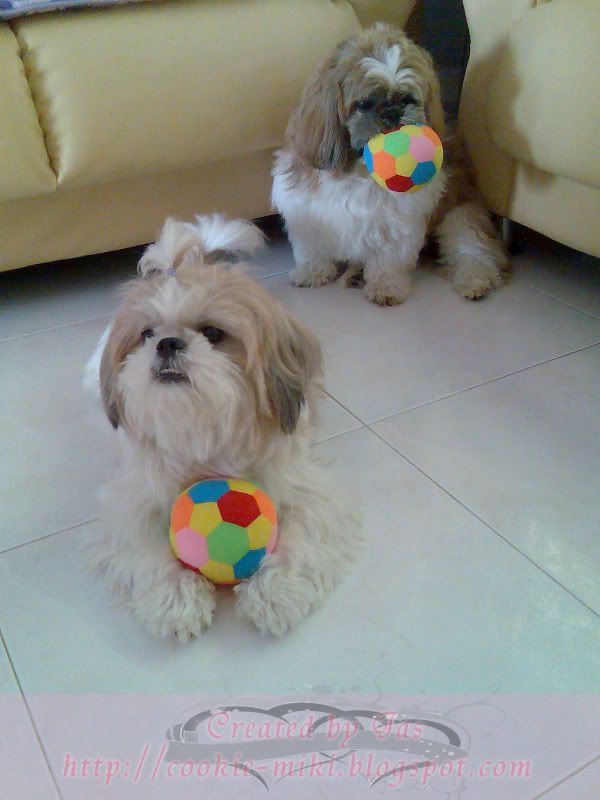 I'm bac. Haven been bloggin here for sometime. Tats bcos, i'm bz. Bz painting the hse & some other rm cleaning.
Bro gf went taiwan n bought this set of hair accessory for Miki. So nice of her.
Find tis pink 2 b the nicest among all, so test it out jus nw. It looks
SO PRETTY
on her!! Sweet rite??? And she looks so happy. Gt a hard time making her looks happy. Ha. She looked so sad aft mum tied these for her. We tot she doesnt like.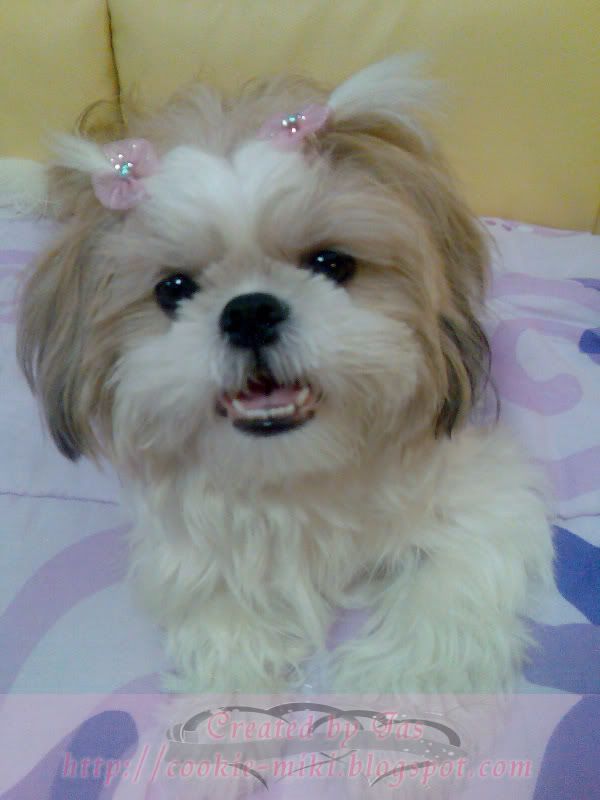 Noe wats the reason behind her smile??? Actually i'm aso nt very sure. Bt while i was taking the pic, mum was carrying cookie & standing behind mi. Cookie must b the reason. I supposed. Hee.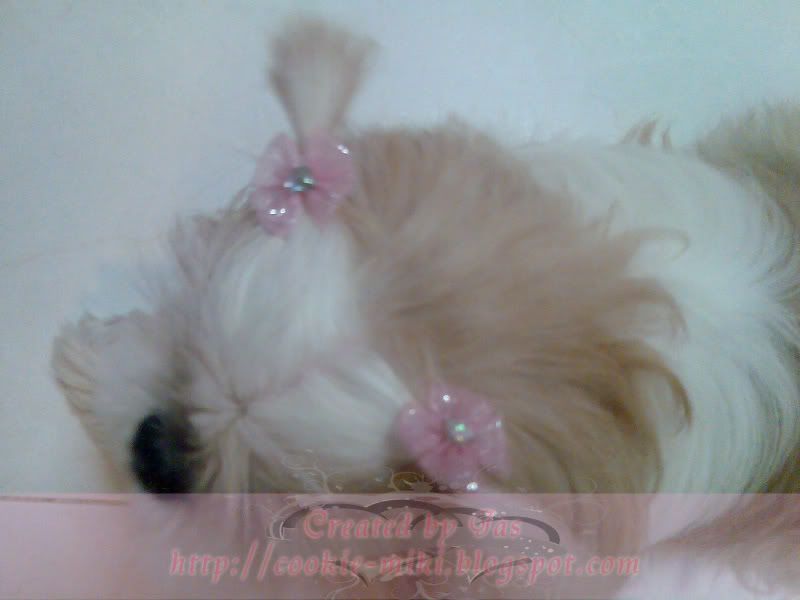 Shall test out the other hair bands sum other time. Maeb 1 day 1? Ha.
Lassi came on tue for grooming. As usual, he is still so fat. Bt then main ting is his fur lar. Its fluffy, tats y. I supposed the 3 doggies had a fun time tog. Esp Lassi. Ha. Cos he's no longer alone at hm. There's Cookie n Miki here. Can understand the loneliness cos Cookie used to be alone aso. So its gd to get him a partner.
Only pic taken on tue. (Yuan Zheng u took tis rite?? Ha. I jus saw tis pic on my fone 2day.)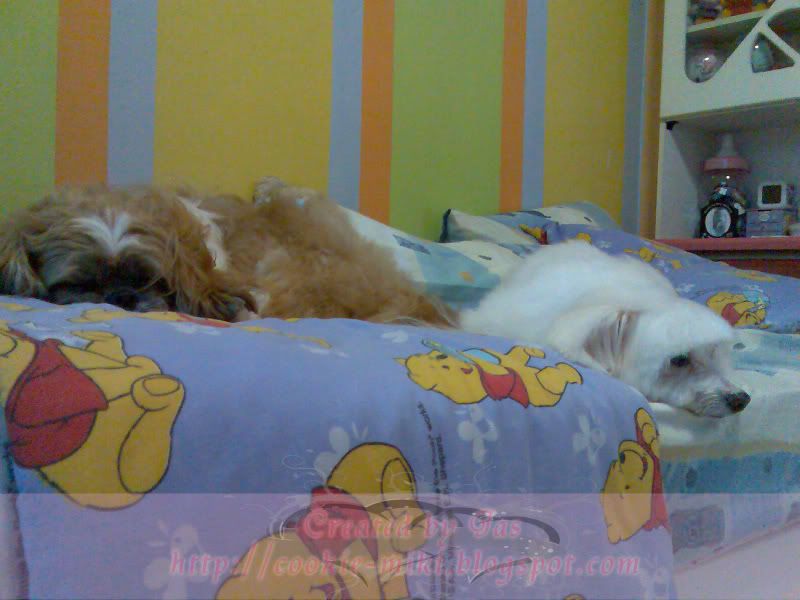 I must say this Lassi is really very sticky. Not jus to humans, bt also to dogs. Ha. He kept sticking close to Cookie n Miki. When he sees them on my bed, he also wants to follow. And if he cant jump up, he barks.
An attention seeker. If u dun gif him ur attention, he barks. It seems like he has alot of tings to say bt can only express thru barking. Too bad, i'm nt a dog, i duno dog language. Ha. Duno wat he wans. Only find his barking irritating. So thruout his stay here, i kept huggin on to the can of pesticide. LOL. Cos tats his only fear and he kept wanting my attention. Wants mi to hug him. He must hav tot tat he is a cockroach. HAHAHA.
Here's sum pics of Lassi taken previously.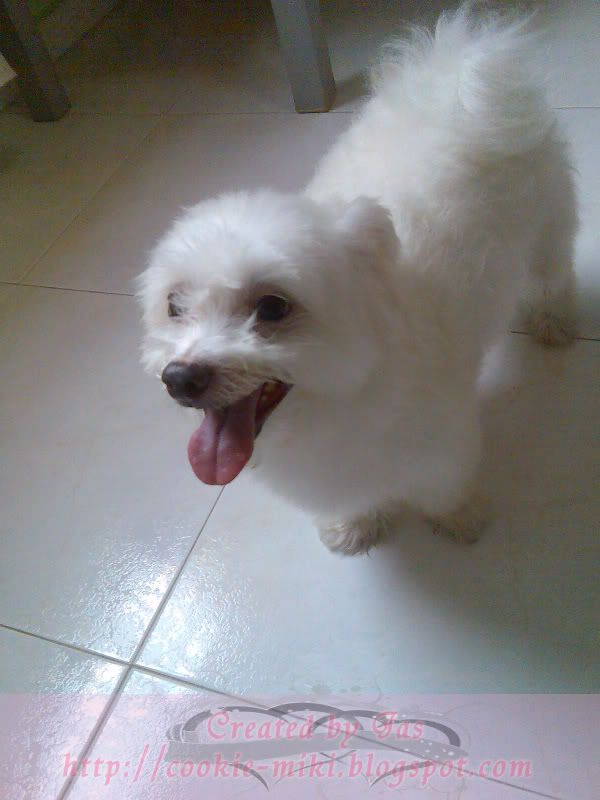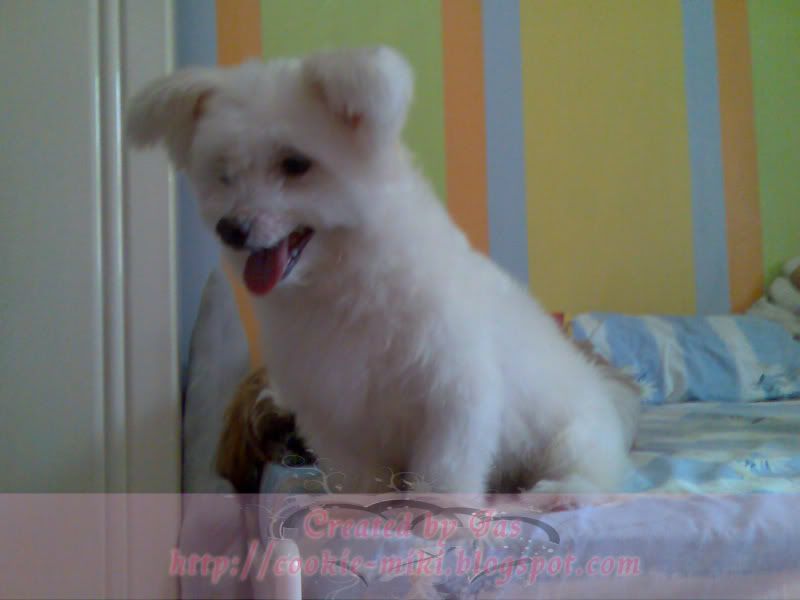 Here's some old pics of Miki. They r sorted in ascending order by date. 1st pic was taken on last yr 14th March.
See for urself, the big change in Miki. From a nt so pretty ger to a beautiful princess who always get praised by others now.
This was how she looked like when she 1st came.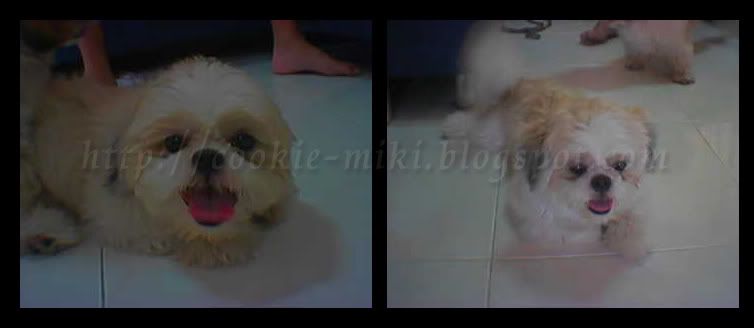 When she came, she started to help herself to the tray of toys.
(Note: Photos were taken wif my old fone so they are kind of small & blur.)
[23rd April'06]-Visit to her ex owner's hse. Was shocked to see her furs so messy & dirty. The auntie allowed us to bring Miki back home to play cos she's goin overseas.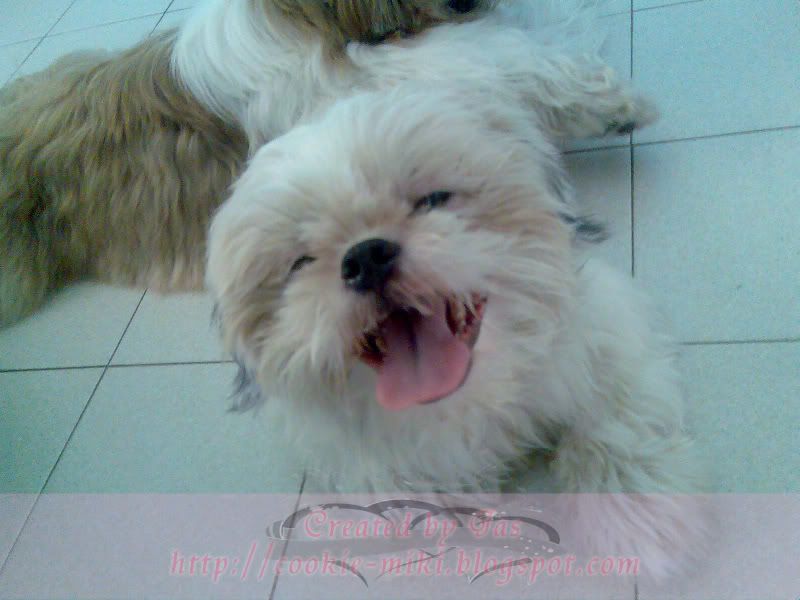 [26th April'06]-Look at her eyes. Notice the tears frm her left eye?? Poor ger. She's crying cos she cant cum dwn. Ha. Bt tats last time. Now, she will use bark or even jump dwn herself.
[27th April'06]
[27th April'06]
[30th April'06] - Mum make the effort to comb her hair, n do some self trimming. See, she looks neater, isnt she??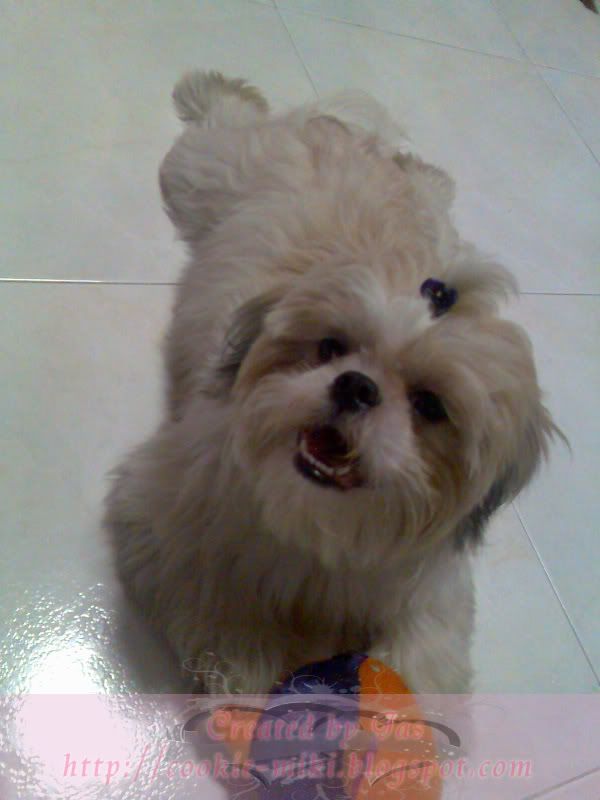 [2nd May'06]-I love tis pic. It was the 1st time i find tat she looks girly. Ha.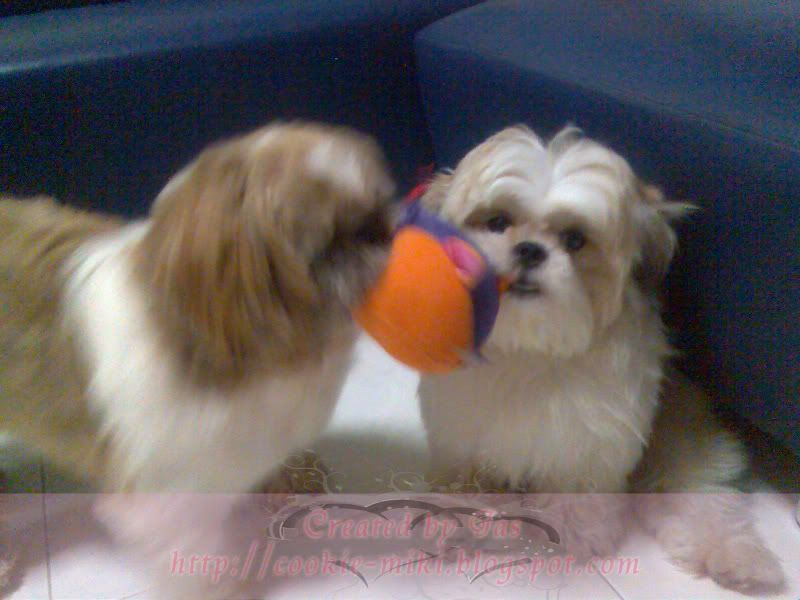 [8th May'06]-
Cutie cutie!!
Her tongue is so cute!!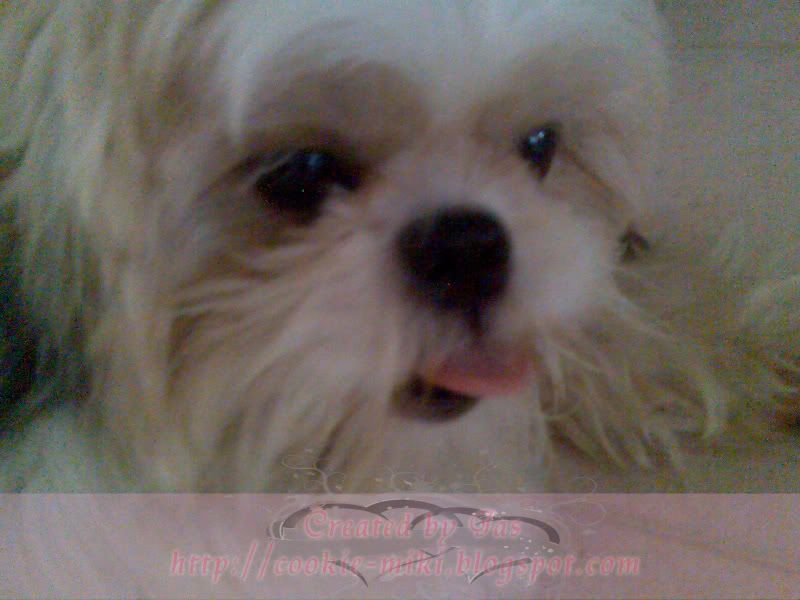 [8th May'06]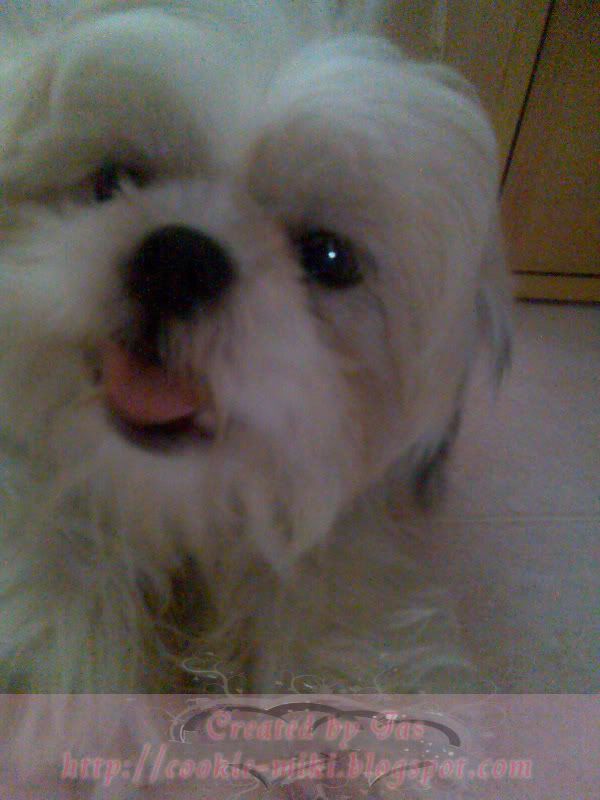 [11th May'06]-Notice the change in her?? She's startin to look pretty rite?? Maeb cos of the new clip mum bought for her. Ha.
Sweet!!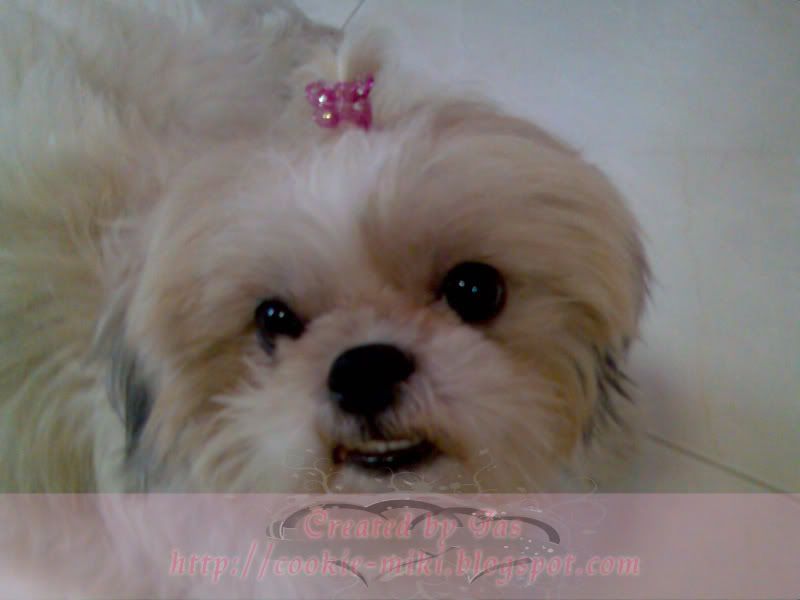 [13th May'06]-She's also starting to learn new things.
[13th May'06]-When she 1st came she duno a single ting. Not like cookie, at least he noes those basic ting like jump, sit, stand. We gt a hard time communicating wif Miki cos she duno aniting. Tats y we used to call her "笨笨". LOL. Bt aft sumtime, she understands jump, sit, stand, "mum mum", "gai gai" etc. And now she finally noe how to shake hands. Ha. She so happened 2 understand "shake hands" on her 3 yrs old bd-1st Sept'07. Ha. Not bad, gt improvement nw.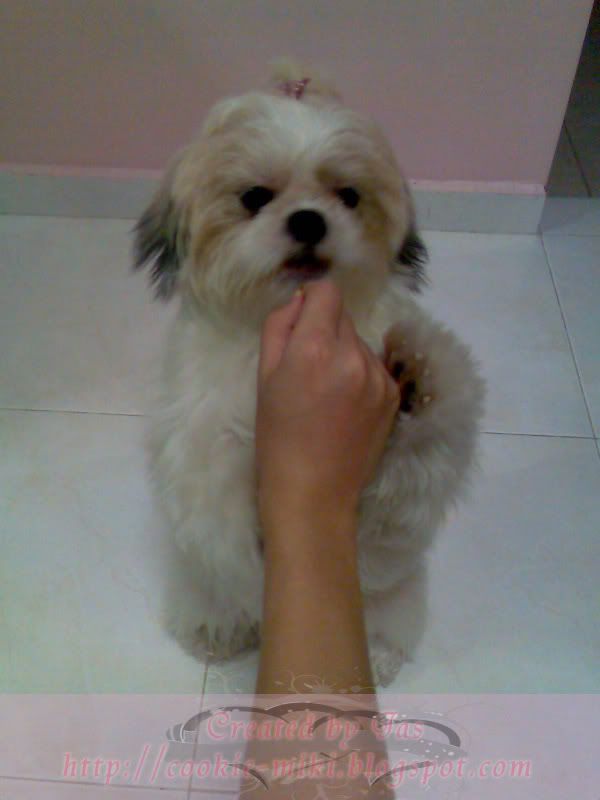 [19th May'06]-Though she duno aniting tat time, her actions are real CUTE!! She bite tis shuttle cock all the way hm when Mum brought her dwn for stroll at nite. Cos she happened to see a few shuttle cocks at the badminton court so she grabbed 1 back hm to play. Ha. Cute??
[20th May'06]-Slping wif my bear.
So SWEET!!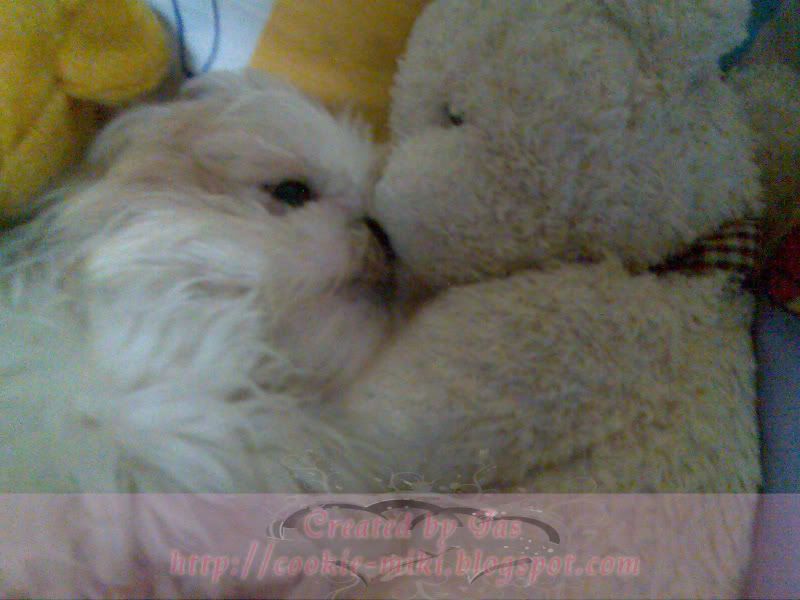 [30th May'06]-Can u guess wat r they looking at??? Its........................
ASTRO!!
My cousin's husky. He left it here cos there's nobody at hm to look aft him.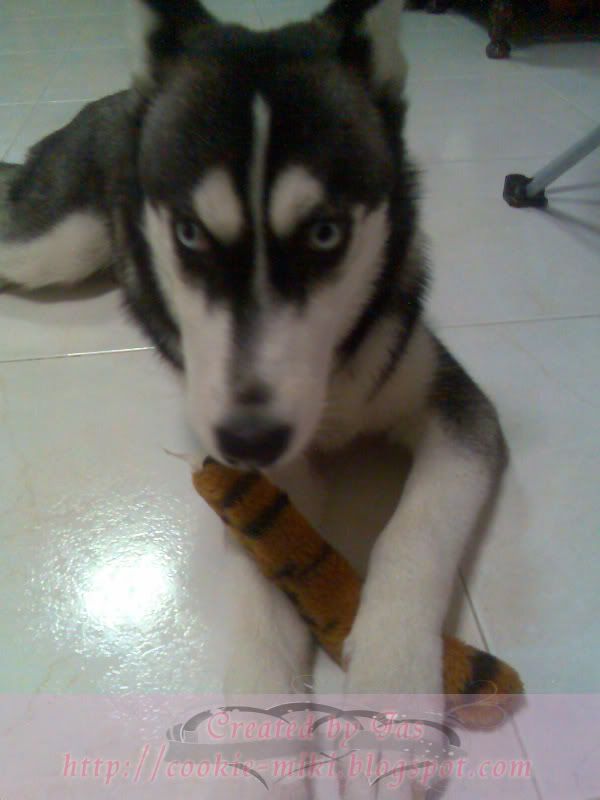 [15th July'06]-She's getting prettier rite???
[13th Aug'06]-Well, I duno how she landed in my cupboard. So dun ask mi. Ha. Bt i find her so cute. Like hiding frm danger.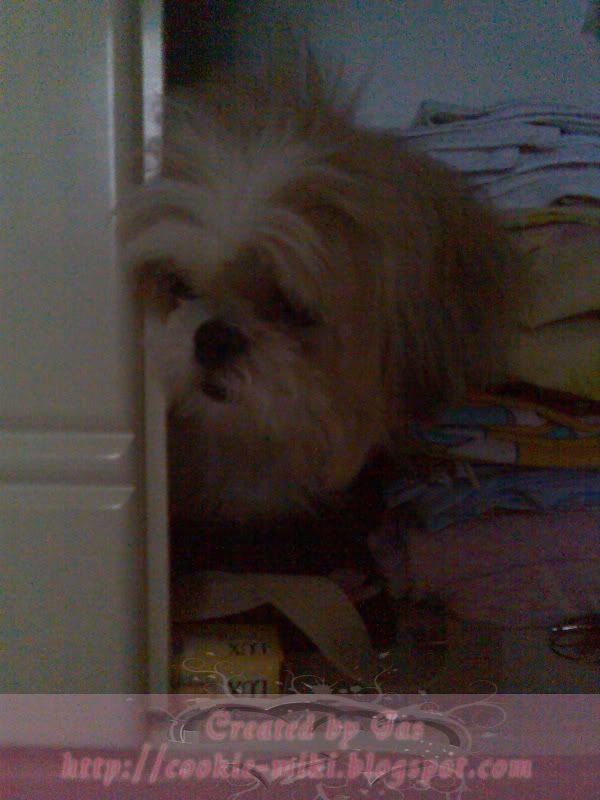 [13th Aug'06]
[20th Aug'06]-She loves to slp wif her toys. Even if she's nt playing, she will purposely go bite some toys n slp bside them.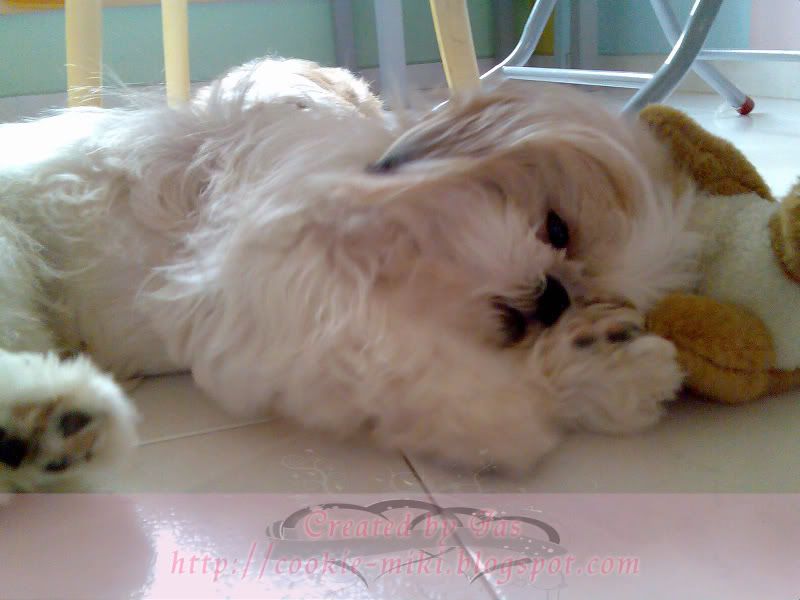 [28th Oct'06]-After 7 mths, she's bcuming more n more femine. No longer the ugly n messy miki. Gers do change when they grow older.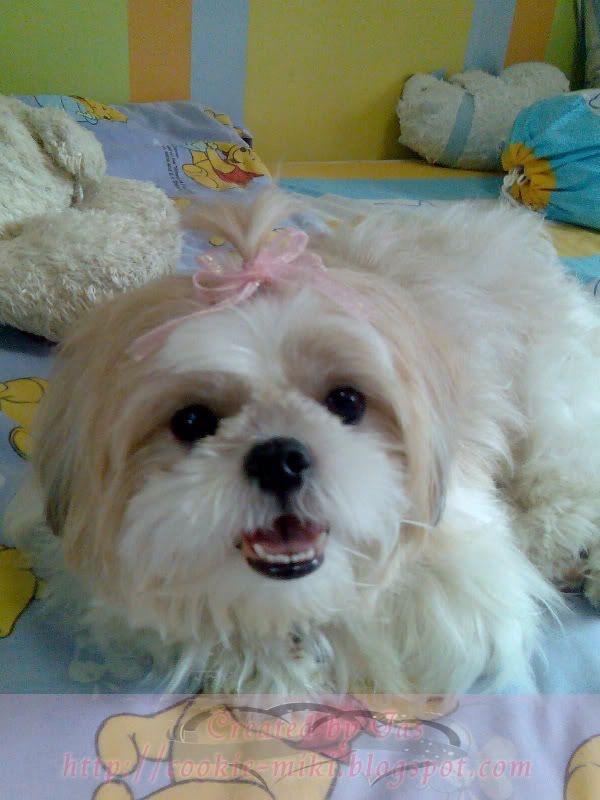 [4th Nov'06]-She's gt a pair of beautiful big eyes.
[10th Dec'06]-Can u understand wat is she trying to say??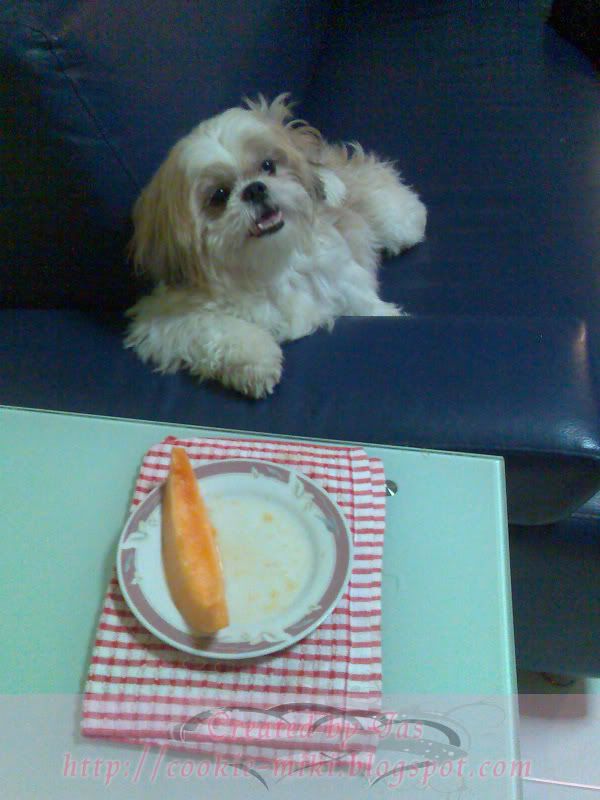 [10th Dec'06]-She's saying,"I want the honeydew!!" Ha.
[3rd Feb'07]-She's bcuming fatter also. Ha.
[3rd Feb'07]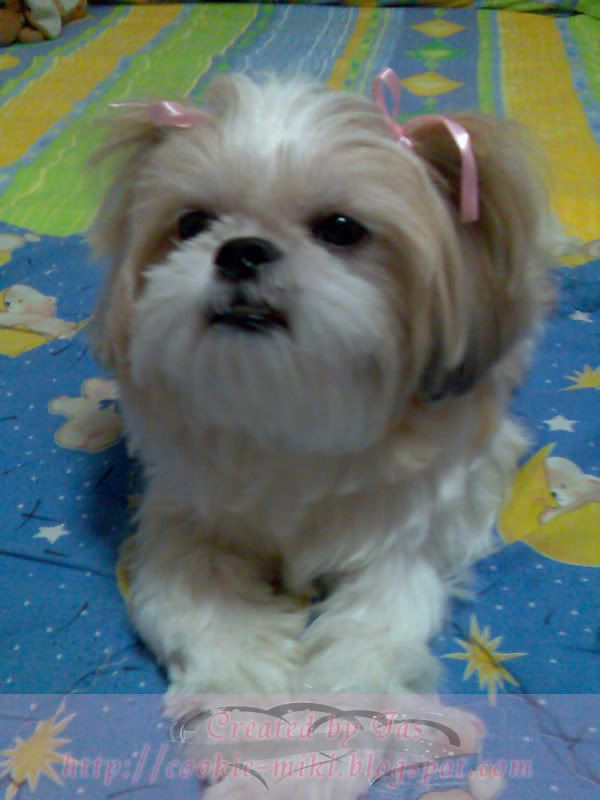 [4th Feb'07]-Just woke up.
[8th Feb'07]-Apart frm her change in her look, did u notice her fur color??? Its changing too. At 1st she looked white bt nw she's looking brown. Her fur color is bcuming darker n darker, which i tink its nicer aso. More compatible wif cookie. Ha.
[13th April'07]-Its been almost a yr n she's nw our Sweet Little Princess!! She gets praises wherever she goes.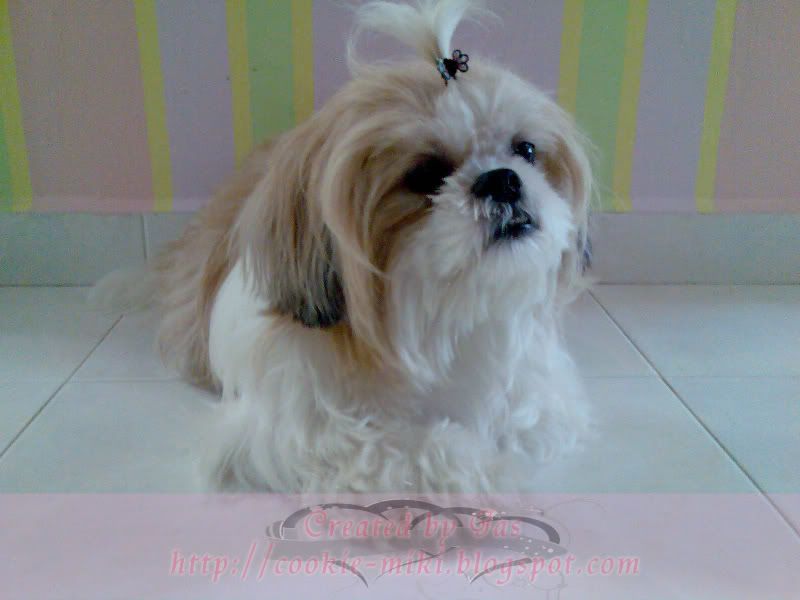 [13th April'07]-Last time she wun dare 2 climb up n dwn. Bt nw she's bcuming so daring.
[15th April'07]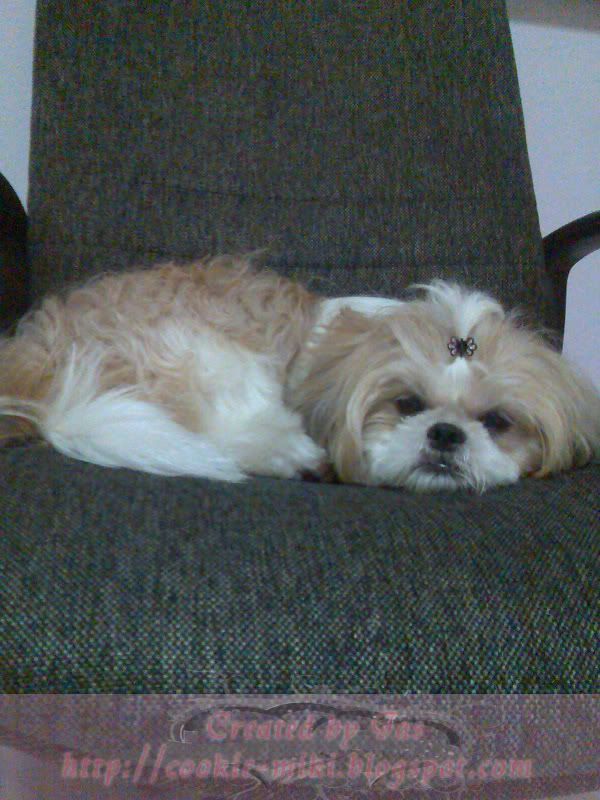 [16th June'07]-Main ting is she's happier. She's always seen wagging her tail. Looks like she reali enjoy her stay here. Luckily her owner doesnt want her back n Miki doesnt want to go bac to her old hm too. Ha. Cos she's caged there. Nt like here, the whole hse is her's. And she gt so many toys to play with. So many ple to pamper her. So many nice food to eat.
Most importantly, she gt Cookie as her companion, her playmate....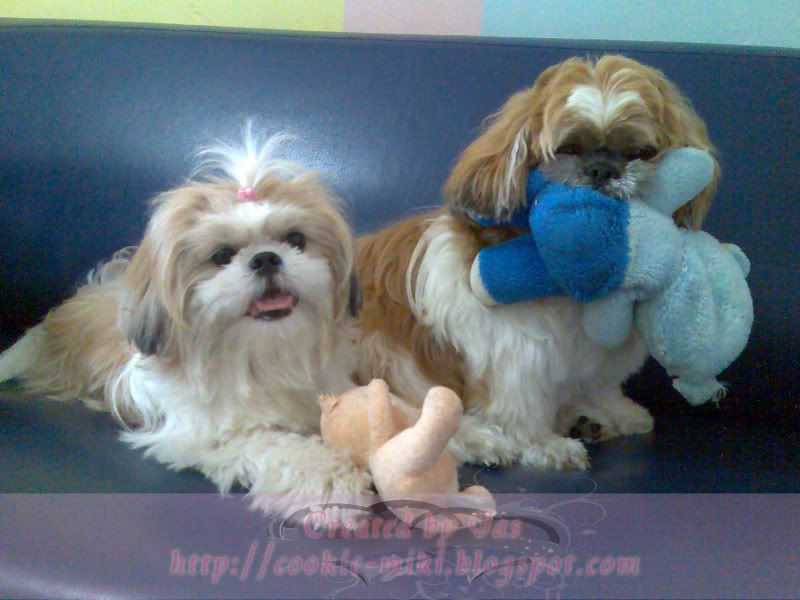 Her lover, her husband...... Hee. Cos of her, Cookie is happier also. He is no longer alone.
I wonder, if 2dae she's nt wif us, hw will she look like?? Still the ugly Miki?? Ha.